Description
PRODUCT TYPE : Fruit Juice
QUANTITY : 50ml x 10 pouches
INGREDIENTS : 100% ARONIA BERRY
ORIGIN OF PRODUCT : KOREA
EXPIRY DATE : 1 year. Consume within 24 hours after opening
HOW TO DRINK :
Please consume 1 to 3 pouches per day for adult and ½ pouch for children
Store in a cool place and away from direct sunlight
FEATURES
Aronia berries, also known as black chokeberries, first began to be used by North American Indians. They were used as food and medicine in winter time against gastric, intestinal discomfort and diarrhea. It is also known that the nuclear disaster at Chernobyl & Fukushima the Aronia berries have been used to mitigate the health discomfort of irradiated persons. It is packed with nutrients and antioxidants, such as vitamin C and anthocyanins, and offer wonderful health benefits for those who want to improve their health through better nutrition.
The Aronia Berry has proven to be one of nature's most powerful antioxidants.(Tuffs University study)
It contains 16,000 ORAC units, while the daily dose needed to protect the tissue is 3000-5000 ORAC units. And it contains 4.6 times more Anthocyanins than Acai Berry Aronia is rich in Antioxidants like : Anthocyanins, Biofenols,Tannin,Flavonoids. It is also rich in Vitamins : A,C,B1,B2,B3,B5B6,B9,E,P and Minerals : Calcium, Iron, Manganese,Iodine,Phosphorus, quercetin, quinic acid, ZINC and contains more than 300 acitive Potassiume compound.
It is well known that Cranberries are great in the combat with UTI, yet research has shown that Aronia berries with its quinic acid inside them are more than 5 times more efficient (University of Stavanger, Norway).
From our carefully cultivated berries, combined with our strict quality control; our Cold Pressed juice contains a unique antioxidant mixture of synergistic compounds including flavonoids like anthocyanins and quercetin, as well as other polyphenols such as ellagic acid. Consume regularly will promote overall wellness which can be helpful in managing inflammation and maintaining healthy cell function.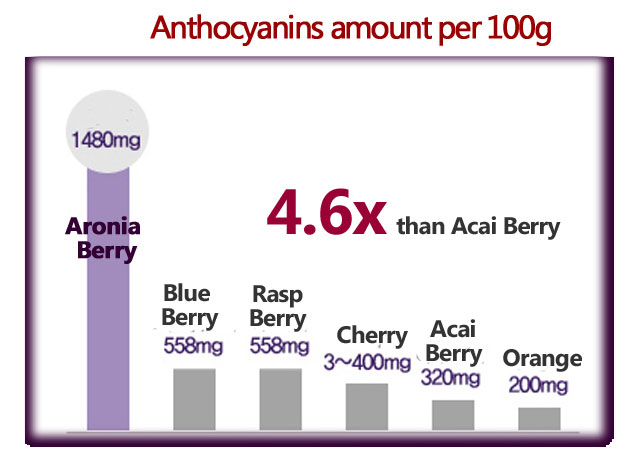 Cold pressed juice
Contains one of the highest antioxidant amongst all berries

Contains one of the highest Anthocyanin content compared to other fruits and vegetables

Organically cultivated (Non-pesticide)

No sugar,No preservative and artificial food coloring

No additives
RECOMMENDED FOR 2 years old and above
Shipping
Local Courier Service : within 2 working days. Please leave your preferred time (2pm to 5pm) or (7pm to 11pm) in the Order comment box
Store pick up : Operation hours is 11am to 6pm Tuesday to Sunday except for public holiday (Monday - by Appointment only )
Enquiry